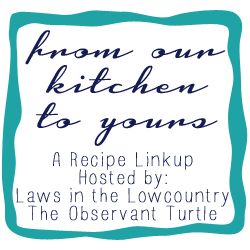 Oh how I love a link up. Thanks to the
Observant Turtle
and
Laws in the Lowcountry
for hosting this! Earlier this week I tried a Summer Salad with Fresh Tomato Dressing that I found on Pinterest. I loved it so much that I just had to share the recipe.
Summer Salad with Fresh Tomato Dressing
(From
Kayotic Kitchen
)
Tomato Dressing
Ingredients:
3 Roma tomatoes
1 small garlic clove
2 tbsp red wine vinegar
4 tbsp oil
pepper
salt
Cut an X at the bottom of each tomato. Boil the tomatoes for about 60 seconds and then plunge them in an ice bath. At this point you should be able to peel the skins off easily. Cut each tomato in half and squeeze out most of the seeds. Roughly chop the tomatoes and transfer them to a blender or food processor. Add 4 tbsp. oil, 1 coarsely chopped garlic clove, 2 tbsp. red wine vinegar and salt and pepper to taste. Blend until the mixture is smooth.
Summer Salad
Ingredients:
4oz bacon
1 avocado
romaine lettuce
fresh mozzarella
1/4 c. red onion
rocket (or arugula)
Cook the bacon over low heat until it is golden brown and crispy. Drain on a paper towel. Finely slice the red onion. Break a ball of mozzarella with your hands. Don't cut it; that looks way too clean. You want it to look a little rustic, so just yank it in coarse pieces. Serve over romaine lettuce with a handful of rocket or arugula mixed in. Top with roughly chopped bacon and avocado slices.
T and I served these on Sunday night for entree salads, So I added some grilled chicken on top. They were so yummy!